ELEC-TREK Outpace 40v Barrow Conversion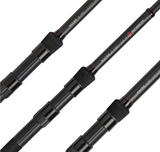 Description
Outpace 40v Barrow Conversion
For The first time ever we have created a 40 Volt electric barrow conversion that can be fitted to any existing barrow on the market. Our electric barrow conversion "Outpace 40v" will fit a wide range of front fork barrows already on the market and can also be fitted too many other models with our front fork conversion.
Make light work of getting your tackle to the bankside carrying up to 150kg in one hit with our cutting edge, battery powered barrow conversion. With the latest lithium-ion cell-technology, the 10Ah battery supplied with the "Outpace 40v" is capable of running for an incredible 5 hours on flat ground and completely blows away its ni-cad and lead acid battery counterparts when it comes to charge time and battery life.
The battery and controls are all housed in a purpose built small, discreet, strong but lightweight box. Supplied with an air-cooled charger that connects directly to the control box without need of removing the battery. Nice and simple fast battery charging with red L.E.D for charging and green L.E.D when fully charged.
The "Outpace 40v" barrow conversion also features variable speed, through the use of a twist throttle. This gives you the advantage to move at your preferred pace, but also ensures you'll be able to adapt to the terrain as well. Another feature we have fitted is a reverse switch enabling you to move in the reverse direction with the battery powered motor.
The main wheel contains high-torque gearing and a meaty DC motor that will allow you to negotiate inclines up to 15° and the pneumatic tired front wheel enables a smooth run across bumpy ground.
1 year warranty included.
Don't wait any longer; convert your existing barrow now!
We do not send these conversion kits out, you must bring your barrow to us or arrange to send your barrow to us to be fitted with the conversion.
Contact us first to make arrangements!
More from this collection